MALAYALAM GREETINGS TO KNOW BEFORE COMING TO INDIA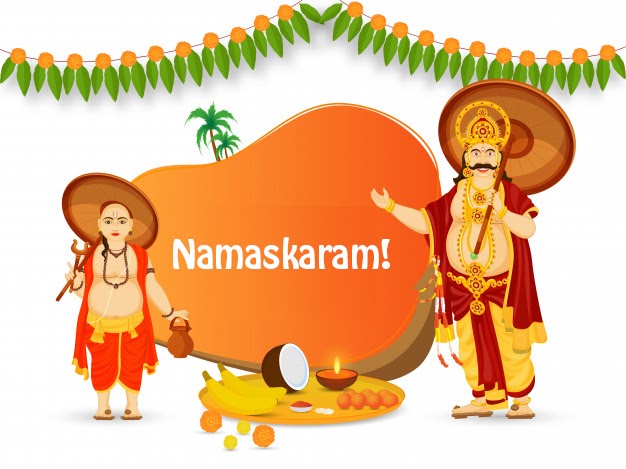 Malayalam has been a linguistic pride of India for as long as one can remember, and if you are planning your next vacation to prominent Malayalam language-speaking locations here – Kerala, Tamil Nadu, Lakshadweep, and neighbouring sites – then you need to be well-versed in some of the common expressions and greetings in the language that locals use frequently. It is a beautiful dialect with lasting influences from Portuguese and Dutch traditions and is at the epicentre of all Malayalees' universes.
Getting a glimpse into this delightful language will lend you a hand in appreciating the rich culture that it is a part of. Here are some quotidian greetings that will take you to the heart of this linguistic knockout!
1. Namaskaram! – Hello
Greeting someone instantly when you meet them can mark the beginning of an entertaining conversation and it forms immediate respect between you and your addressee. 'Namaskaram' is the Malayalam way of acknowledging someone. Do not forget to fold your hands while saying so!
Don't forget to read our guide on
2. Sukhamano! – How are you?
Now that you have struck a conversation try to fall into a comfortable environment with them by asking them how they are doing. If you are asked the same, reply with 'Enikku sukhamaanu!' – I'm fine. This will greatly help you in interacting more amicably with the natives.
3. Suprabhatam – Good Morning.
Nothing like waking up energised on a new day, getting ready to conquer the world, and shouting out an invigorated 'Good Morning' to people in the vicinity! Learn this greeting to address someone in the wee hours of the morning.
4. Nanni! – Thank you
Thanking someone and expressing gratitude after receiving assistance, gesture or even a little help from people shows off a generous and down-to-earth attitude, so this phrase is a must-have in your vocabulary to make your day as pleasant as it can be.
5. Dayavayi – Please
Including 'please' with your request with a genuine sense of appreciation and regard will make people more likely to help you and it boasts a polite character that will go a long way in getting you respect.
6. Kshamikkanam – Sorry
You're bound to make mistakes whenever you set out to do something and apologising to those who you might hurt along the way in their own language will surely redeem you. You can also use this phrase to excuse yourself from a setting.
7. Abhinandanangal – Congratulations.
Commend the one whose day it is, and don't shy away from giving praises to the locals in Malayalam, it has double the effect you are going for!
8. Pinneedu Kanam – bidding farewell/goodbye.
Bid farewell to people in Malayalam with Manglish Typing App and show that you enjoyed the time spent with them by using this expression.
Greetings are some of the first things you ought to learn about a place and its literature. Communicating with the Malayalee's in their own tongue is a different kind of thrill, and you get an opportunity to add another speech to your multilingual repertoire!